New Jersey Civil Service Discipline
No discussion of New Jersey employment law would be complete without New Jersey's Civil Service System, which governs all state government employees, and employees of twenty of New Jersey's twenty-one counties, and the majority of its municipalities.
As far back as 1961, the Appellate D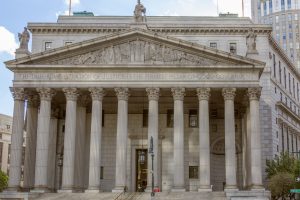 ivision gave a cogent summary of the disciplinary procedures in New Jersey's Civil Service Act, which is worth quoting ver batim.
Disciplinary proceedings against a civil servant are not only an attempt to determine the status of a particular individual; they are a statutorily authorized action to redress a wrong committed against the people of the State by one in whom the public trust has been officially reposed. The proceedings are therefore penal, or at least Quasi-penal, in nature, and deeply embedded constructional principles, supported by fundamental notions of fairness, dictate that in such an action the statute or regulation defining the alleged violation be construed to comport with the fair meaning of the language used. The theme of fairness threads its way through the notice, hearing, and right of appeal provisions of our Civil Service Act, and finds particular pertinence in those sections requiring that the causes for removal constituting 'just cause' be enumerated with specificity. The governing consideration, that one be fairly and completely advised of the nature of the charges against him, loses all effectiveness if it is not reinforced by a requirement that the proscribed activities and contingencies warranting disciplinary proceedings be set forth with reasonable particularity and construed accordingly.
Thus, discipline "is governed by principles of notice, due process and fundamental fairness."
The grounds for discipline have an almost limitless variety, but the regulations promulgated by the Civil Service Act lists many examples:
1.Incompetency, inefficiency or failure to perform duties;

2. Insubordination;

3. Inability to perform duties;

4. Chronic or excessive absenteeism or lateness;

5. Conviction of a crime;

6. Conduct unbecoming a public employee;

7. Neglect of duty;

8. Misuse of public property, including motor vehicles;

9. Discrimination that affects equal employment opportunity [], including sexual harassment;

10. Violation of Federal regulations concerning drug and alcohol use by and testing of employees who perform functions related to the operation of commercial motor vehicles, and State and local policies issued thereunder; and

11. Other sufficient cause.
Violation of appointing authority rules is also grounds for discipline.
In addition to the authority to write the regulations implementing the Civil Service Act, the New Jersey Legislature has conferred the New Jersey Civil Service Commission the authority to make the final administrative decisions in civil service disciplinary cases.
The following are examples of some specific civil service discipline upheld by reviewing New Jersey Courts:
Violation of local appointing authority rules: catchall provisions.
Violation of local appointing authority rules, conduct unbecoming: off-duty racial epithets by municipal firefighter.
Driving while under the influence of alcohol.
Refusing to submit to urinalysis may be grounds for discipline, but only so long as the urinalysis is legally valid.
Inability to perform the essential functions of the position with reasonable accommodation because of disability is subjected to disciplinary procedures, although this does not imply fault or malfeasance by the employee; in such cases the burden of proof is on the employer.
Assault by correction officer on prisoner.
Fraternization by correction officer with inmate.
Incompetence or inefficiency.
Habitual tardiness.
Failure to return when leave properly cancelled.
Civil Service discipline is categorized as either "major" or "minor," and the designation carries with it different consequences and different avenues of relief.  Major discipline is a fine or suspension  of more than five days. Minor discipline is a fine or suspension of five days or less.
The main consequence of this distinction is that major discipline may be appealed to the Civil Service Commission, while minor discipline may not.  There is a route for appeal, by prerogative writ to the Superior Court of New Jersey, but this is generally cumbersome and expensive, and normally costs far more than the loss of five days or less of pay.
Progressive discipline is also an important part of the Civil Service discipline system.  Thus, normally a major offense, such as theft or drugs, will result in major discipline such as termination, while a minor offense such as tardiness will not.  However, under progressive discipline, even a small infraction can result in major discipline, including termination, if there is a pattern of disciplinary infractions.  Thus, while a single lateness would not result in major discipline, habitual tardiness would.
Our New Jersey employment attorneys represent New Jersey public employees in all aspects of civil service.  Call (973) 890-0004 or fill out the contact form to schedule a consultation with one of our employment lawyers.  We can help.