The law firm of McLaughlin & Nardi, LLC, has been awarded the Equal Justice Medal by Legal Services of New Jersey for the Firm's pro bono contributions to low income New Jersey residents.
While all of our attorneys do community service and pro bono legal services, Pauline Young by far does the most, and this award was mainly due to her.  Pauline does a wide variety of pro bono work, but concentrates on providing services which help remove barriers to employment for prisoners reentering society after their terms of incarceration have ended, most often through engagement of their criminal records.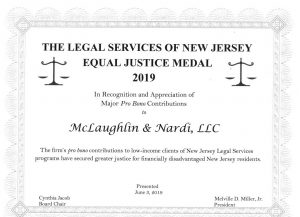 Pauline generally does her pro bono work through Legal Services of Legal Services of New Jersey and Volunteer Lawyers for Justice's Reentry Legal Services program.