Internet Gambling in New Jersey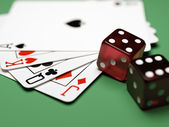 Gambling is one of the many activities that are regulated primarily by state laws (as opposed to federal laws). On February 26, 2013, New Jersey Governor Christie signed into law legislation allowing internet gambling, making New Jersey only the third state to allow internet gambling (after Nevada and Delaware). While there is a federal law called the Unlawful Internet Gambling Enforcement Act, which does, to a certain extent, restrict online gambling, that law allows individual states to permit and regulate internet gambling if the state so desires.
Atlantic City, New Jersey has always been a hot spot for gamblers from all over the world since the late 1970s and early 1980s. However, over the past several years, Atlantic City has been struggling financially with the increase of gambling in neighboring states. Therefore, New Jersey decided to combat this struggle by allowing online gambling. Six already established brick and mortar casinos were able to obtain internet gaming permits: Borgata, Trump Plaza, Trump Taj Mahal, Bally's, Caesars, and the Golden Nugget. The first five of these permit holders were given approval to participate in a five day test run or "soft" start, of the internet gaming beginning at 6 p.m. on Thursday, November 21, 2013 (the Golden Nugget had not met all requirements in time to receive approval), with 13 websites approved for the online gambling.

During this "soft play" period, New Jersey's Division of Gaming Enforcement were expected to be monitoring to ensure that, among other things, the software being used to enforce age restrictions is effective. New Jersey's Casino Control Act prohibits anyone under the age of twenty-one from gambling at any New Jersey casino and that age restriction will remain on internet gamblers as well.
The Division will also be monitoring to ensure that payments are being accurately made, received, and reported (presumable so New Jersey can collect taxes), that the games are functional, and that gamers are actually playing from New Jersey. While the geolocation technology requires the gambler to be gambling from within New Jersey, as more states begin to allow internet gambling, it is likely that this technology will provide for gamblers to be located in any of the participating states.
Besides boosting revenue for New Jersey's casino's, some believe that internet gambling will also open up a whole new market for international gambling. Indeed, just a few days prior to the start of the "soft play," a new piece of legislation was introduced by State Senator Raymond Lesniak which would allow international online gambling companies to headquarter their operations in New Jersey with licensing through New Jersey's casino regulations, which could bring in five to eight billion dollars of business to New Jersey annually. Indeed, with a 15 percent tax – which was requested by Governor Christie as opposed to the 10 percent that was proposed by the legislature – it is sure to bring in a significant amount of income to the state.
The attorneys at McLaughlin & Nardi, LLC are continuously staying abreast of new and evolving state and federal laws and can advise both businesses and individuals on the many varied ways that these laws may effect them. To learn more about what we may be able to do to help, please visit our website, or contact one of our New Jersey lawyers by e-mail or telephone at (973) 890-0004.