New Jersey Law Against Discrimination Applies to Mergers
A recent New Jersey employment law decision in the case of Rosemary Beneduci vs. Graham Curtin, P.A. addressed when failing to offer an employee of one business entity a job with a second when the two merge constitutes an illegal employment practice under New Jersey's Law Against Discrimination.  While the case involved two law firms, it would be equally applicable to any employers.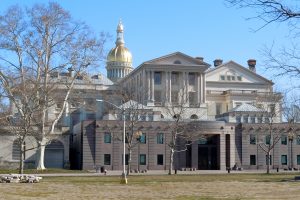 Background
As the opinion explained them, the facts are relatively straightforward.  Rosemary Beneduci was a long-time employee of Graham Curtin, P.A., a major New Jersey law firm.  She had been on disability leave for knee replacement surgery.  At the same time, Graham Curtin was merging with a second firm, McElroy Deutsch.  When the merger was completed, McElroy would be the surviving firm.  All of the attorneys and employees at Graham Curtain who did not leave for another firm were offered employment with McElroy except for Beneduci.  All of them became employees of McElroy except for Beneduci and one part-time employee who chose to retire.  The testimony indicated that Graham Curtin's employees were hired based on the recommendation of its former managing partner; he recommended all the employees be hired by McElroy except for Beneduci.  When Beneduci emailed the managing partner, her direct supervisor, that she would be returning to work, he met with her, terminated her and offered her a severance agreement.  She rejected the agreement and sued Graham Curtain, its managing partner, and McElroy for violation of the New Jersey Law Against Discrimination.
The trial court judge in the Civil Part of the Law Division of the Superior Court of New Jersey dismissed Beneduci's complaint on summary judgment, explaining that
'if Graham Curtin were continuing a business and had not brought… Beneduci back this case would go to the jury.' The court, however, maintained there was no 'requirement that [a business] who's closing their doors, even if they have an opportunity to give work, or help someone secure work' must do so.
The judge also ruled that since Beneduci had not applied for employment with McElroy, it could have no duty to hire her.
Beneduci appealed the decision to the Appellate Division of the Superior Court.
The Appellate Division's Opinion
The Appellate Division rejected the law firms' arguments and reversed the trial court judge's dismissal of Beneduci's case.
The Appellate Division did not find that Beneduci proved discrimination.  Rather, it found that the trial judge had misapplied the law and that there was sufficient evidence for the case to go to a jury — in a summary judgment motion, all the court does is decide whether the evidence is sufficient to create a question of fact which a jury must decide.
The Appellate Division held that while it was true that Beneduci had no right to a job at McElroy, nor a legally protectable expectation of one, she could not be rejected for a discriminatory reason such as because of her disability, disability or disability leave.  The Appellate Division found that there was certainly evidence that could lead a reasonable juror to believe that discrimination because of her disability, age or disability leave in violation of the New Jersey Law Against Discrimination was the reason.  For instance, no Graham Curtain employee was required to apply, but Beneduci was the only one who was not recommended, and the only employee who did not retire who was not hired.  Indeec, the managing partner said that the fact that Beneduci was out on disability leave played a factor was also important.
As the court explained in its opinion: "The proper inquiry, however, is whether Beneduci's allegations, if true, can establish that defendants violated the LAD [the New Jersey Law Against Discrimination] by denying her employment at McElroy due to her age, disability, or use of disability leave. We conclude they would."
The Appellate Division's decision does not mean that Beneduci won.  Rather, it means that she gets her day in court to present her evidence to a jury for it to determine whether or not she was denied a position because of illegal discrimination.
The Takeaway
Regardless of the situation, an employer or prospective employer may not take any action which adversely affects an employee for a discriminatory reason, even where that action without discrimination would be completely legal.  Employers should therefore be careful to make sure that they are not doing so, and that their employment decisions do not disproportionately affect employees with a protected characteristic such as age, disability, gender, race or sexual orientation.  And if an employee has evidence that an employer has taken a discriminatory employment action against her, the New Jersey Law Against Discrimination provides strong remedies.
Contact Us
Our New Jersey employment attorneys represent employers an employees in all aspects of New Jersey employment law, including in cases of illegal discrimination.  Call us at (973) 890-0004, or fill out the contact form on this page.  We can help.