The Purpose of a Power of Attorney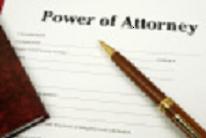 Attorneys often focus on the importance of an estate plan and having a will to minimize costs and conflicts when a person dies. But it is just as important to plan for problems that may occur during people's lives if they are unable to manage their own affairs, particularly the serious problems that can occur as the result of illness or incapacity.
A durable power of attorney can be invaluable in such situations. A durable power of attorney authorizes one person to handle all non-medical matters for another. It can also be limited as desired by the principal (the person who is signing the power of attorney, the grantor of the power). It is a durable power of attorney because it remains in effect even if the grantor becomes incapacitated. The durable power of attorney can be revoked at any time as long as the grantor has not become incapacitated.
In the event a person becomes incapacitated, the agent appointed in the durable power of attorney can take care of their affairs. The durable power of attorney thus eliminates the need to apply to a court to declare a person incapacitated so that a guardian can be appointed. The application for guardianship is a costly, time consuming and emotionally draining experience. One simple document, the durable power of attorney, properly drafted and executed saves the principal and their loved ones from this difficult and expensive proceeding. It also ensures that the principal gets to chose who will act on her behalf if she becomes incapacitated, rather than having the existing laws and a court make that determination. It is also recommended that the principal designate a successor agent, someone who will take over as the agent if the first named agent is unwilling or unable to fulfill that role.

However, it is important to note that a durable power of attorney is powerful and can be a dangerous instrument. The agent chosen is provided with sweeping powers which carry the potential for misuse or abuse. The principal must select someone who is completely trusted to serve as her agent. The successor agent should likewise be someone who is trusted beyond a doubt.
To be accepted by financial institutions, the power of attorney document must specifically mention the power to manage assets. New Jersey law requires specific language (Section 2 of P.L. 1991, Chapter 95 (N.J.S.A. 46:2B-11)) be included in the power of attorney. If the proper language is not included, the financial institution may not accept the document. The power of attorney must specifically give the agent every power the principal wants the agent to have.
Contact the New Jersey estate planning attorneys at McLaughlin and Nardi at 973-890-0004 or by e-mail for assistance with the preparation of a New Jersey durable power of attorney, estate planning, estate administration, and asset protection.