United States District Court Rules for Police Officers in New Jersey Employment Law Case
Federal versus State Courts for New Jersey Employment Law
Employees who sue their employers for violating New Jersey employment law most often choose to litigate in state court because New Jersey employment law and courts are viewed as more favorable to employees, while employers seek to litigate in Federal court, because federal courts and employment law are seen as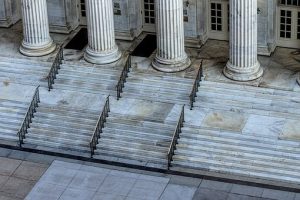 more friendly to employers.  However, there are exceptions.  For instance, public employees sometimes have additional remedies under federal employment law, and employees can litigate their state and federal law claims together in federal court.  A good example of this can be seen in a decision in  Chesler vs. City of Jersey City by Judge Susan D. Wigenton of the United States District (New Jersey's federal trial court).
The Chesler Case
The defendants asked the court to dismiss the case claiming the employees failed to allege a violation of the law, so Judge Wigenton was only evaluating the plaintiffs' allegations, not whether they could be proven.  Thus, she had to take the allegations as true for the decision.  The facts below are those alleged by the employees.
Kelly Chesler and Joseph Ascolese were Jersey City police officers.  A supervisor harassed Chesler because she was female.  She and Ascolse complained to their supervisors and internal affairs ("IA").  They met with several senior officers about the complaints, including the deputy chief, and were told the claims would not be investigated.  They also complained that an officer, Crowley, had made racially and sexually disparaging remarks in a police report.
In addition, Ascolese was seen as supporting Jersey City Mayor Fulop's political opponents.  At some point Asoclese and Chesler were asked by Crowley's brother to donate to the Hudson County Democratic Organization, but they declined explaining they were politically neutral.
Thereafter, a series of harassing actions were taken against the officers.  They were both effectively demoted.  Ascolese was pressured into resigning by a deputy chief who was chief of staff for the Department's chief.  A series of IA investigations were then taken against Chesler and Ascolese by those they had reported or who believed they opposed them politically.  Eventually, criminal charges were brought and a 107 count indictment returned against them, and Chesler was suspended without pay and passed over for promotion three times.  A trial began, but the Hudson County Prosecutor's Office dismissed all the charges against the officers in the middle of it.
The officers then sued Jersey City and those involved in federal court, and the defendants filed their motion to dismiss the lawsuit.  The court rejected the defendants' arguments and denied the motion to dismiss.
First, Chesler and Ascolese alleged retaliation and harassment under the New Jersey Law Against Discrimination (the "LAD") and Conscientious Employee Protection Act (known as "CEPA," this is the New Jersey whistleblower protection law).  Judge Wigenton found that the IA investigations, demotions, harassment, and other acts were "adverse employment actions" which would have been illegal if motivated by retaliation, discrimination or gender.
The officers also brought claims under Section 1983 of the Civil Rights Act of 1871 and the New Jersey Civil Rights Act ("NJCRA").  These laws give people a remedy when the government violates their rights, and apply to government employees.  The officers alleged violation of their freedom of association rights.  Judge Wigenton found these claims sufficient, as even being neutral is constitutionally protected political activity.  They also alleged violation of their First Amendment free speech rights by retaliating against them for reporting misconduct and discrimination by law enforcement officers, and again Judge Wigenton agreed.
The City argued that it could not be liable because for a municipality, as opposed to individuals, to be liable the plaintiffs needed to show the  violation resulted from a "policy or custom."  Judge Wigenton found that the officers met this burden because the actions were taken by or with the participation of the highest level policy makers, including the Chief of the JCPD, the heads of IA, and Jersey City's Director of Public Safety.
The decision did not find that the officers had proven their allegations, just that they had sufficiently pled them in their lawsuit to permit the case to proceed to discovery and allow them the opportunity to try to prove their case.
The Takeaways
While state Superior Court is generally a much better venue for employees to bring New Jersey employment law claims, there are infrequent times when employees, particularly government employees, may want to bring them in federal court. This is the exception, however, and should generally be avoided.
While these egregious allegations almost required the court to allow the case to proceed, in many New Jersey employment law cases with egregious facts have been dismissed or thrown out on summary judgment in federal court when they would have been allowed to proceed in state court.
Since all of the relief sought in this case would have been available through New Jersey employment law, it was unnecessary to take the risk of bringing the claims in federal court. For instance, the main federal claims were violation of Section 1983, but the same relief could be obtained in Superior Court under the New Jersey Civil Rights Act, CEPA and the New Jersey Law Against Discrimination.  And by using only these laws and staying in state court the officers would have stood a much higher chance of success, and continued to have a better chance at the summary judgment and trial stages.
Contact Us
Our New Jersey employment lawyers represent public and private employees in all aspects of New Jersey employment law.  Call us at (973) 890-0004 or fill out the contact form on this page to schedule a consultation.  We can help.