On April 14, 2020, New Jersey Governor Murphy signed a food waste recycling bill (A2371)  aimed at requiring large producers of food waste in New Jersey to recycle their unused food.  This mandate is schedule to go into effect on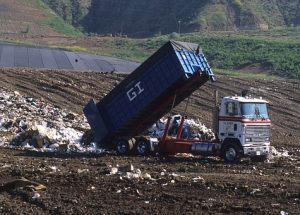 approximately October 14, 2021.
The law applies to "large food waste generators" which are defined as "any commercial food wholesaler, distributor, industrial food processor, supermarket, resort, conference center, banquet hall, restaurant, educational or religious institution, military installation, prison, hospital, medical facility, or casino that produces at least 52 tons per year of food waste."   Any large food waste generator that is located within 25 miles of a food recycling facility will be required to separate out food waste from other solid waste and send the food waste to the food recycling facility.  Alternatively, these generators can compost their food waste (or other authorized anaerobic or aerobic digestion) on-site, or use other recycling alternatives.
The New Jersey Department of Environmental Protection (known as the "DEP") lists food waste recycling facilities to include Trenton Renewable Power, LLC (Trenton, NJ), and Waste Management Core (Elizabeth, NJ).  Therefore, a significant amount of generators in New Jersey will likely be considered to be within the 25 miles. Those outside the 25 miles range or with waste which is not accepted by the food recycling facility within their range may dispose of the waste as they normally would with other solid waste.