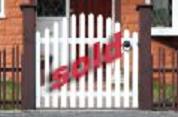 When you purchasing a foreclosed property, you often get a property which seems to be worth more than you are paying for it. One of the reasons you are getting a bargain is because most selling banks will only accept your offer if you will agree to accept insurable title. They will not guarantee that you will get marketable title. If you are purchasing a property in foreclosure in New Jersey, it is important to understand the distinction and know what you are getting.
The selling bank will often add an addendum to the contract for your purchase specifically stating that the bank will often provide only "insurable" title at closing, as opposed to the standard contract provisions requiring a seller to provide "marketable" title. The bank will further offer to pay for all or part of the costs to obtain title insurance if the buyer obtains the insurance from the title insurance company designated by the seller. While this can result in significant savings, it is important to understand what you will get (and what you will not get) as part of this bargain.
Prior to issuing a policy of title insurance, a title insurance company will conduct numerous searches on the property to determine if there are any clouds on the property's title, if there are issues with the deed, the ownership status of the property, any tax liens against the property, the status of property tax payments, and judgments, etc. The question is, will you be satisfied with receiving insurable title, as opposed to marketable title?
"Marketable" title means that the chain of ownership to a particular piece of property is clear and free from defects. It can be sold without additional effort by the seller or potential buyer to "clear" the property's title. To transfer marketable title, a seller must cure or repair any defects found during the title search, such as, for example, paying off liens and/or having them discharged as of record.
Continue reading