The New Jersey and United States Constitutions Do Not Protect Private Employees' Free Speech Rights
New Jersey whistleblower protection laws protect employees who object to or try to prevent illegal conduct by their employers, be they private sector employers or state or local government employers.  However, while New Jersey employment law gives strong protection to employees, a recent published appellate decision in the case of McVey v. Atlanticare Medical Systems Incorporated makes clear that neither the New Jersey nor Federal constitutions provide free speech protections to employees of private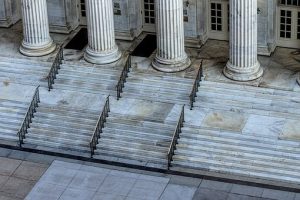 sector employers, particularly when that speech violates a company policy or is racist.
Background
Heather McVey was an employee of Atlanticare Medical Systems Incorporated, a private employer.  She was hired as a nurse in 2005.  She was promoted several times, eventually becoming Corporate Director of Customer Service.  She was an at will employee.  She had a Facebook page under a fictitious name, "Jayne Heather," but used her actual photo for her profile, and listed her employment as "Corporate Director at Atlanticare Regional Medical Center."
Atlanticare had a social media policy covering company and private social media accounts.  It prohibited "the obvious (no ethnic slurs, personal insults, obscenity[,] etc.) but also [required] proper consideration of privacy and of topics that may be considered objectionable or inflammatory—such as politics and religion…."  Moreover, the policy provided that "When you identify yourself publicly as being employed by/and or affiliated with Atlanticare, ensure your profile and related content is consistent with how you wish to present yourself with colleagues and clients. Proper identification includes your name and, when relevant, your role at Atlanticare."
In 2020, shortly after the killing of George Floyd, McVey became involved in an online discussion about the Black Lives Matters movement on Facebook.  The Court summarized the interactions as follows.
Another Facebook member posted a question: "Do you believe the phrase `Black Lives Matter' is racist, or does it bother you in any way? If so, why? (Feel free to D[irect] M[essage] me, not tryin[g] to argue[,] just seeking to understand)[.]" In response, McVey wrote: "Yes, I find it racist. Yes[,] it bothers me. `Black lives' matter causes segregation. Have you ever hear[d] of `white lives' matter or `[J]ewish' lives matter[?] No. Equal opportunity."

The other Facebook member posted "that `[B]lack [L]ives [M]atter' is bringing attention to the plight of [B]lack folks in America. That they're dying. And they'd like support, not at the exclusion of the other groups you mentioned, but simply to include them in the respect and dignity supposedly afforded to everybody in this country." McVey responded: "[T]hey are not dying… they are killing themselves." McVey later wrote that she "support[ed] all lives… as a nurse they all matter[,] and [she] d[id] not discriminate." McVey added she did "not condone the rioting that ha[d] occurred in response to `this specific [B]lack man[`]s death.'"
One of Atlanticare's administrators discovered the post and reported it.  Atlanticare suspended McVey pending an investigation.  On June 23, 2020, she was called into a meeting with senior management.  When McVey announced she was recording the meeting, McVey was terminated and the meeting ended.  Atlanticare advised McVey that she was fired due to her "repeated instances of poor management judgment — a failure to uphold Atlanticare values."
McVey's Lawsuit
McVey sued Atlanticare in the Law Division of the Superior Court of New Jersey in Atlantic County, claiming that Atlanticare wrongfully terminated her employment by firing her in violation of public policy (which is known as a "Pierce" claim, in accordance with the New Jersey Supreme Court's opinion in Pierce v. Ortho Pharmaceutical Corporation).  McVey claimed that her comments were protected by  the free speech provisions of the First Amendment of the United States Constitution and Article 1, Paragraph 6 of the New Jersey Constitution of 1947, which provides that "Every person may freely speak, write and publish his sentiments on all subjects, being responsible for abuse of that right.  No law shall be passed to restrain or abridge the liberty of speech or the press."
Altanticare filed a motion to dismiss, which the trial judge granted.  Essentially, the judge ruled that even if everything McVey said was true, she still had no grounds to sue because U.S. and New Jersey State Constitutions' free speech only protect people from actions by the government, not private employers.  The judge therefore dismissed McVey's suit.
The Appeal
McVey appealed to the Appellate Division of the Superior Court.  The Appellate Division affirmed the trial judge's decision, and upheld the dismissal of McVey's lawsuit.  The gist of the Court's opinion was that neither the New Jersey nor United States Constitutions provide free speech protections to private sector employees.
Takeaways from The Appellate Division's Decision
The free speech protections of the New Jersey and Federal Constitutions do not protect private sector employees from action taken by private sector employers because of their employees' speech.
Companies have the right to enforce their social media policies, particularly when the employee identifies themselves as an employee of the employer.
Courts will not look favorably on employees being fired for anything that could reasonably be considered racist or discriminatory. This only makes sense, since the company could be found to have created a hostile work environment based on the acts and speech of its employees.
As an at will employee, McVey could be fired for any reason, even a mistaken one, provided it was not against the law. Since Altanticare was a private sector employer, firing McVey because of her speech was not in violation of her constitutional rights, and since she did not "blow the whistle" on illegal conduct, she was not protected by New Jersey's whistleblower laws.
Even if McVey had been a public employee, her speech would not have protected. As the court explained: "In a case involving a public employee and a public employer, our Supreme Court held over twenty years ago that racist remarks are not protected by the First Amendment or Article I, Paragraph 6 of the New Jersey Constitution."
Contact Us
Our New Jersey employment lawyers represent employers and employees  in all aspects of New Jersey employment law.  Call us at (973) 890-0004 or fill out the contact form on this page.  We can help.