New Jersey's Solid Waste Association of North America 2022 Conference
This past Spring, SWANA's (Solid Waste Association of North America) New Jersey Chapter returned to their live Annual Conference following a two-year hiatus resulting from the Covid-19 pandemic.
The conference covered a wide range of topics related to the solid waste industry and New Jersey solid waste law, including safety in waste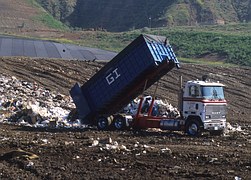 transportation, to the recent implementation of the plastic bag ban across the State, to fleet innovation and modernization. SWANA NJ panelists in fact noted that solid waste transporters are 10 times more likely to have fatalities than workers in other industries and that waste haulers have the 6th most dangerous job in the United States (more dangerous than firefighters).  Interestingly, statistics show that most accidents occur in March and June which – it is speculated – may be the result of an influx of pedestrians during these months.  It is therefore recommended that waste transporters increase their safety meetings, briefings, and/or reminders to drivers and workers around these time periods.
SWANA's national organization emphasizes their 5 tips for safe work practices.  First, always wear Personal Protective Equipment.  This is not limited to Covid masks.  PPE for waste haulers may include high visibility vests and/or outerwear.  Second, never use your cell phone while driving or working.  Besides being illegal, distraction from cell phone use is a huge factor in accidents.  Third (and mostly for municipal waste transporters) don't ride on the step if the truck is backing up or traveling at more than 10 mph or for more than 1/5th mile at a time. Fourth, always comply with safety belt rules. Fifth, never speed and never rush.
The New Jersey Department of Environmental Protection (the "NJDEP") Initiatives panel also provided a significant amount of information of New Jersey's recent plastic bag and straw ban.  The panel explained that beyond the negative impact plastic has on the environment, another primary reason for the ban is that plastic bags tend to jam recycling facilities' vehicles and equipment resulting in significant delays, extra labor, and safety hazards.  The plastic straw ban went into effect on November 4, 2021 and set forth that restaurants could only provide plastic straws upon request by the customer.  The bag ban went into effect May 4, 2022 and bans all plastic bags at grocery stores and retail outlets, as well as paper bags at grocery stores that are larger than 2,500 square feet.  It also bans polystyrene foam food containers.  Violations result in a warning on the first offense, up to $1,000 for a second offense and up to $5,000 for a third offense as well as subsequent offenses.   Only "reusable carryout bags" are permitted.  This is defined as bags which are made of polypropylene fabric, PET nonwoven fabric, nylon, cloth, hemp product, or other washable fabric; and have stitched handles; and which are designed and manufactured for multiple reuses.
SWANA NJ also presented on the expected evolution of waste vehicles towards chargeable, electronic trucks. While there still appear to be some uncertainties and wariness in the industry in moving towards non-gas vehicles, it is likely that government sustainability programs will continue to encourage and perhaps eventually even mandate these changes in the future.  Some concerns include: (1) the associated costs, (2) potentially insufficient power grids, and (3) maintaining a charge throughout the day to complete all required trips.  However, there are grants available which some electronic truck companies will assist the hauler in applying for.  Also, many trucks are showing extended travel capabilities which should not restrict full day activities.  It is also likely that advances in this area will continue to improve the power and efficiency of these vehicles in the next few years.
McLaughlin & Nardi, LLC's New Jersey solid waste attorneys are experienced with New Jersey laws and DEP regulations governing solid waste transporters and can provide consultation and advice for New Jersey companies seeking to either begin their new business in the waste transportation industry, assisting haulers with the A-901 initial and renewal processes, or to improve their operations and ensure legal compliance.  Contact one of our New Jersey solid waste lawyers by filling out the contact form on this page or call us at (973) 890-0004.