New Jersey Employment Law Decision Examines Employee's Claims of Employer Retaliation for Filing Lawsuit Under NJ Law Against Discrimination
The New Jersey Law Against Discrimination is one of the main employee protections under New Jersey employment law.  The Appellate Division of the Superior Court of New Jersey recently examined the anti-retaliation provisions of the Law Against Discrimination.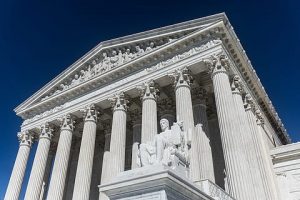 The New Jersey Law Against Discrimination
The Law Against Discrimination prohibits employers from taking adverse action against an employee or harassing them
because of [their]race, creed, color, national origin, ancestry, age, marital status, civil union status, domestic partnership status, affectional or sexual orientation, genetic information, pregnancy or breastfeeding, sex, gender identity or expression, disability or atypical hereditary cellular or blood trait of any individual, or because of the liability for service in the Armed Forces of the United States or the nationality of any individual, or because of the refusal to submit to a genetic test or make available the results of a genetic test to an employer….
The Law Against Discrimination also makes it illegal
For any person to take reprisals against any person because that person has opposed any practices or acts forbidden under this act or because that person has sought legal advice regarding rights under this act, shared relevant information with legal counsel, shared information with a governmental entity, or filed a complaint, testified or assisted in any proceeding under this act or to coerce, intimidate, threaten or interfere with any person in the exercise or enjoyment of, or on account of that person having aided or encouraged any other person in the exercise or enjoyment of, any right granted or protected by this act.
This is the legal background for the Appellate Division's decision in the case of Johnson vs. State of New Jersey.
Background
Nathan Johnson was attorney and long time employee of the New Jersey Division of Banking and Insurance ("DOBI"), working there since 1998.
After several transfers which he claimed were motived because he was Black, he sued the DOBI in 2008 for violation of the New Jersey Law Against Discrimination.  He was again transferred while the lawsuit was pending.  The suit was settled in 2011.
Thereafter Johnson was instructed to supervise another Black employee who had also sued the Department.  Other white supervisors who knew about her suit did not want to supervise, even though those same supervisors would prepare her evaluation instead of Johnson, who would actually supervisor her but was Black.  Johnson objected to the other supervisors that he was simply being used as a front because he was Black to protect the white supervisors from the other Black female attorney from claiming discrimination for any adverse evaluations or discipline.  After this complaint, one of the white supervisors sent an email to the others referring to Johnson as "N," and saying "He has to go."  The supervisor admitted sending the email, but later testified that "N" referred to Johnson's first name, Nathan, and was not a racial epithet.
Thereafter, in 2014, Johnson again objected that the transfer and supervision of the other Black employee were discriminatory and also in retaliation for his discrimination suit.  He was then transferred once more, this time to "Legs and Regs," where he had specifically asked not to go.  The Department claimed that this was because of budget concerns, but Johnson was the only person transferred.  There, his supervisor complained about the timeliness of his work.  Johnson filed an EEO complaint.  Shortly thereafter, in early 2016,  Johnson was suspended for five days, effective September 26-30, 2016.
During this time Johnson was diagnosed with a major depressive episode and was under the care of a clinical psychologist.   As a result he took a two month leave of absence.  When he returned in July 2016, his request for transfer to the Department's real estate commission was denied because the manager, who know of the prior lawsuit, did not want him.
The Department ordered Johnson to attend job training because of his allegedly poor timeliness in completing assigned tasks, but the Department acknowledged that he was not given access to standard legal research programs or the ability to open certain emails.
In January 2017, Johnson again requested transfer, stating in writing that the reason was that he was being discriminated against in his current position.  His request was again denied "because of funding concerns."  In February 2017 he was put on a performance improvement plan.  Shortly thereafter, in March 2017, a second disciplinary charge was filed against him seeking a 30 day suspension for "incompetency, insubordination, conduct unbecoming an employee, neglect of duty, and other sufficient cause."
Johnson went out for medical leave for back surgery.  The Department refused his request to reschedule the hearing on the disciplinary charges until after he returned.  Johnson participated by phone.  He was suspended for 30 days, but did not serve the suspension because the Department could not spare Johnson, who was allegedly incompetent.  He received a negative performance evaluation.
Johnson filed a second lawsuit in the Superior Court of New Jersey alleging that this course of conduct was racial harassment in violation of the New Jersey Law Against Discrimination, and that it was also retaliation for his first lawsuit and EEO complaints.  In April 2019, shortly before the trial of his second discrimination lawsuit, the Department filed yet another disciplinary charge seeking Johnson to be suspended for 45 days.   Johnson's supervisor at the time had also recently filed disciplinary charges against another Black attorney in her office, and admitted that Johnson and this other attorney, both Black, were the only employees she had ever filed disciplinary charges against.
At the trial, the  jury found that the Department had harassed Johnson because of his race and retaliated against him because of the first lawsuit and his EEO complaints.  The jury awarded him $984,000 in damages for emotional distress, $2,237.36 for his economic losses, and $1 in punitive damages. The Department appealed.
The Appellate Division's Opinion
The Appellate Division first held that the trial judge should have dismissed Johnson's harassment/hostile work environment claim because he testified that his performance improvement plan was reasonable and that he did not learn of the "N" email until discovery, so it could not have harassed him at work because he did not know about it.
However, the Appellate Division upheld the trial judge's refusal to dismiss the retaliation claim or overturn the jury's finding of retaliation for filing a lawsuit alleging discrimination under the New Jersey Law Against Discrimination.  The involuntary transfer while the first lawsuit was pending was sufficient action to justify the verdict, and there were multiple other actions which could support the verdict, including the other involuntary transfers, the refusals of transfer requests, and discipline.
The Appellate Division also rejected the argument that because one of the claims was denied, there should be a new trial on the amount of damages.  Here, the Court explained, the damages were based on the emotional distress caused by the actions, which even if not motivated by racial harassment the jury found were motivated by retaliation for filing the discrimination lawsuit.  Thus, there was no need for a new trial on damages.
The Takeaways
While the Court may have taken an overly technical interpretation of the harassment claim, it provided an equitable result for Johnson in finding that all the damages should stand.
No employer should retaliate against an employee for objecting to or reporting discrimination in the workplace, much less for filing a lawsuit that he was discriminated against.
If an employee suffers retaliation for objecting to workplace discrimination or filing a lawsuit under the New Jersey Law Against the Discrimination, the LAD gives them strong remedies.
Contact Us
Our New Jersey employment attorneys represent private sector  employers and government and private sector employees in all aspects of New Jersey employment law, including claims of discrimination and retaliation.  Call (973) 890-0004 or fill out the contact form on this page to schedule a consultation with one of our New Jersey employment lawyers.  We can help.