This past Spring, SWANA's (Solid Waste Association of North America) New Jersey Chapter returned to their live Annual Conference following a two-year hiatus resulting from the Covid-19 pandemic.
The conference covered a wide range of topics related to the solid waste industry and New Jersey solid waste law, including safety in waste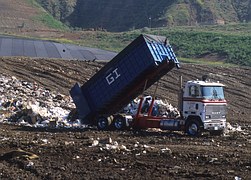 transportation, to the recent implementation of the plastic bag ban across the State, to fleet innovation and modernization. SWANA NJ panelists in fact noted that solid waste transporters are 10 times more likely to have fatalities than workers in other industries and that waste haulers have the 6th most dangerous job in the United States (more dangerous than firefighters).  Interestingly, statistics show that most accidents occur in March and June which – it is speculated – may be the result of an influx of pedestrians during these months.  It is therefore recommended that waste transporters increase their safety meetings, briefings, and/or reminders to drivers and workers around these time periods.
SWANA's national organization emphasizes their 5 tips for safe work practices.  First, always wear Personal Protective Equipment.  This is not limited to Covid masks.  PPE for waste haulers may include high visibility vests and/or outerwear.  Second, never use your cell phone while driving or working.  Besides being illegal, distraction from cell phone use is a huge factor in accidents.  Third (and mostly for municipal waste transporters) don't ride on the step if the truck is backing up or traveling at more than 10 mph or for more than 1/5th mile at a time. Fourth, always comply with safety belt rules. Fifth, never speed and never rush.