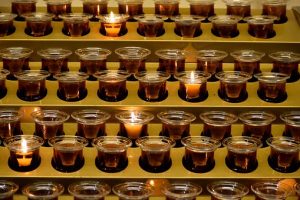 Both New Jersey's Law Against Discrimination and the Federal Title VII of the Civil Rights Act of 1964 expressly prohibit employers from discriminating against employees because of their religious practices if they can be reasonably accommodated.  In many cases the most difficult question is whether an accommodation which the employer could have provided was "reasonable."  However, the Third Circuit Court of Appeals recently issued an important decision on the unusual question of whether an employee's honestly and strongly held beliefs could be considered "religious" under Title VII.
Paul Fallon had been an employee of Mercy Medical Center since 1994.  In 2012, Mercy instituted a rule that all employees had to receive a flu vaccination each year.  Mercy allowed for religious exemptions.  Fallon requested and was granted exemptions in 2012 and 2013.  However, she  was denied in 2014 because Mercy had changed its definition of religious exemption.  There was no question that Fallon's objection was because of his sincerely held belief that the vaccination did more harm than good.  However, he cited no religious source, just his belief that it is wrong to cause harm to your own body.  Mercy decided that this reason was not "religious" under its policy, and ordered Fallon to get the shot or provide a letter from clergy explaining why he could not get the vaccination for religious reasons.  He failed to provide the letter and refused to be vaccinated.  Mercy therefore fired him.
Fallon filed suit in Federal District Court alleging that Mercy had fired him because of his religious beliefs, and therefore committed religious discrimination in violation of Title VII.  The trial judge disagreed and dismissed his suit.  Fallon appealed to the United States Court of Appeals for the Third Circuit.  The Third Circuit agreed with the trial judge's opinion and upheld the decision.