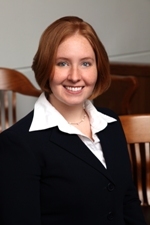 McLaughlin & Nardi, LLC, welcomes aboard the firm's newest member, Pauline Young.  Pauline M.K. Young joined us when she was a student at New York Law School.  For some reason, after getting to know us she decided to stay.  We could not be happier.  Besides being an excellent attorney, Pauline is, as Reggie Jackson said, the "straw that stirs the drink."  She is detail oriented, but excels at working with our staff, attorneys, clients, adversaries, judges and juries, and keeping us on an even keel in the most stressful of environments.
Pauline's practice includes employment law, commercial law, insurance and professional malpractice, tax litigation, business and real estate transactions, solid waste law (including both litigation, transactions and A-901 applications), among a diverse set of cases she has handled.  To say this, however, is give a dry listing of her experience and ignore where her talents lie.  Pauline can be handed the most complex set of problems, figure them out, determine a winning strategy, and pursue it to a successful conclusion.
For example, in one recent case Pauline stepped into a complex construction defect/commercial landlord-tenant case as it was about to go to trial.  She took literally tens of thousands of pages of documents, organized them – but more importantly, in an extremely short time digested and understood them – and put together a winning trial strategy in a case where each side introduced more than five hundred exhibits over two months in a hard fought trial.